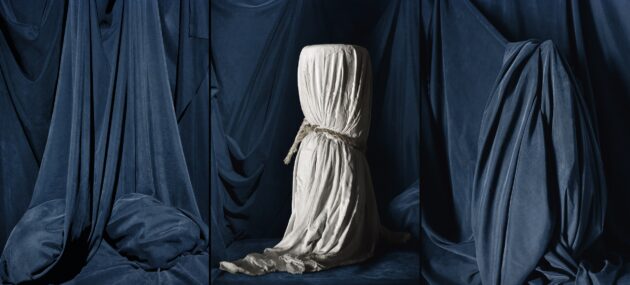 Sculpted Matter
Date
16.05.2020
-
14.06.2020
Location
The Library Hall
Price
Included in entrance ticket
Sculpted Matter
Sculpture formulates what language cannot. In the group exhibition SCULPTED MATTERS artists Tina Maria Nielsen, Milena Bonifacini, Carl Emil Jacobsen, Julie Stavad and Valerie Collart pay tribute to the sculpture as something that awakens the senses and examines form and materiality. From papier mache to concrete, photogravure to bronze castings of a cachalot.
The exhibited works span from the abstract and reference-free to the recognizable and engage in dialogue with the visitors and the architectural details of the old library. The theories and dictum of late Danish sculptor, Willy Ørskov, the sculpture's content is sculpture, resonates across artistic disciplines and the title of the exhibition is a loving homage to this practice, which has influenced the exhibiting artists in various ways – consciously or unconsciously.
SCULPTED MATTERS is curated by Henriette Noermark.
Supported by the Danish Arts Foundation, L.F. Foghts Fond, Knud Højgaards Fond