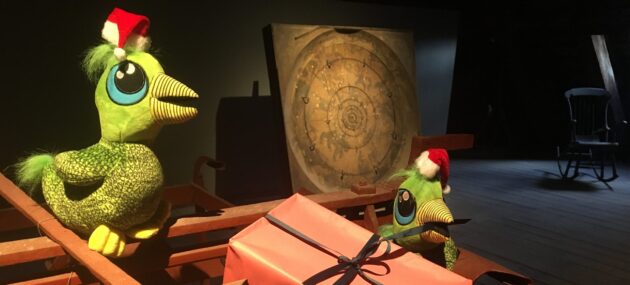 Cancelled: Christmas with the Yggenyks
Date
11.12.2020
-
31.12.2020
Price
Included in entrance ticket
Cancelled: Christmas with the Yggenyks
The yggenyks are back!
Many year ago the small three-legged creatures stole the Round Tower. Luckily they put it back where it belongs, when they got a sackful of their favourite cookies. But once again they have sneaked into the old tower – and this time they are wearing Christmas hats.
Throughout the Christmas month, children and their adults can explore the tower, find the five places with yggenyks wearing Christmas hats and count the total amount.
<! - wp: paragraph ->
Christmas Workshop
On the Saturdays leading up to Christmas, you can cut out your own yggenyk and make decorations for the Christmas tree. <! - / wp: paragraph -> <! - wp: paragraph ->
You can also try making your own badges with yggenyks, motifs from the Round Tower – or whatever you come up with. The price is 20 DKK for two badges. The rest of the workshop is included in the entrance ticket.
<! - / wp: paragraph -> <! - wp: paragraph ->
The first Christmas workshop takes place as part of our Family Day on Saturday 28 November from 13.30 to 16.00. On the following Saturdays – 5 December, 12 December and 19 December – the workshops take place from 13.00 to 16.00.
<! - / wp: paragraph ->
Bring Home Your Own Yggenyk
The Round Tower is the only place in the world, where you can buy the yggenyk soft toy. Funny to look at and soft to cuddle. For sale in our shop in the Library Hall.