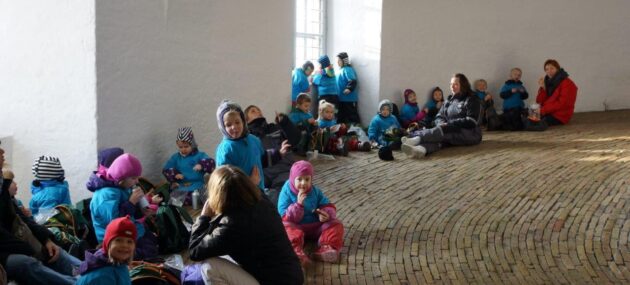 Accessibility
The only way to the top of the Round Tower is through the ascending Spiral Ramp, which is approximately 200 metres in length. Where the Spiral Ramp finishes it is followed by two sets of stairs: a wide wooden staircase and a smaller winding of stone leading up to the viewing platform. Traffic around the two stairs may cause queuing during peak hours.
Wheelchairs
Because of the two sets of stairs to the top, the Round Tower sadly is not very accessible for visitors in wheelchairs. Exhibitions and other events in the Library Hall can be accessed, but please note that the incline makes it difficult for non-electrial wheelchairs to climb.
Dissability Concession
Guests with dissabilities pay the regular entry price, however any carer is admitted for free.
Prams and Pushchairs
Prams and pushchairs cannot access the viewing platform because of the stairs. They can be left either after the ticket booth at the entrance or by the side before the stairs. Please note that we do not take any responsibility for your personal belongings.
Luggage
Bigger luggage and suitcases cannot be brought into the Round Tower. Sadly, we do not offer any form of luggage storage. Instead we refer you to VisitCopenhagens general recommendations.
Dogs
You cannot bring dogs or other pets with you in the Round Tower. Guide and service dogs are allowed.
Elevator
This is no elevator in the Round Tower.
General Information
Food and Beverages
You can bring your own food and beverages. Consuming it in the Library Hall and café, however, is not allowed.
Lost and Found
Anything that is handed in or found in the Round Tower, is kept in our lost and found box. Please call +45 33 73 03 73 if you think you lost something during your visit.
Smoking
Smoking is not allowed in the Round Tower, including the viewing platform.