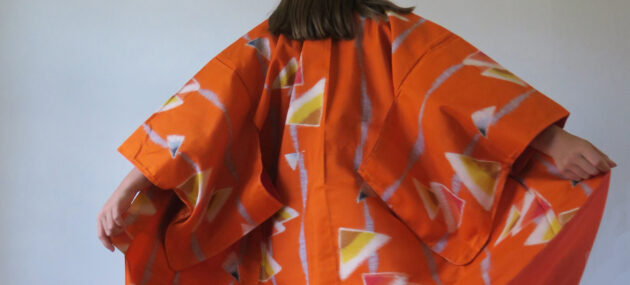 Meisen Kimono
For the first time in Denmark, a large private collection of Japanese Meisen silk kimonos is exhibited.
The exhibition, curated by Henriette Friis, shows a large collection of long and short Japanese Meisen silk kimonos from the heyday of the Meisen kimonos from 1910 to 1955, and tells their story.
The inspiration from Japan to Europe – also called Japonisme – is known and shown in many exhibitions. "Europeanism", with the inspiration going from Europe to Japan, is less shown. It is a story of mutual inspiration cross country.
In the first part of the 20th century, modernist European art inspired the Japanese artists to create kimonos in bold large compositions and colours with both stylistic flowers and nonfigurative abstractions. In the 1960s and 1970s, these compositions again inspired Scandinavian textile design, for example Finnish Marimekko.
Part of the story of the Meisen kimono is that through them, the Japanese women of the time expressed independence and liberation by dressing in their bold compositions.
It is the first time in Denmark to experience Meisen kimonos and hear their history. It becomes an experience of modernism, from figurative to abstraction.
A catalogue of the exhibition will be available online in February 2021.
More on https://www.meisenkimonocollection.com/
The exhibition is supported by the Toyota Foundation.