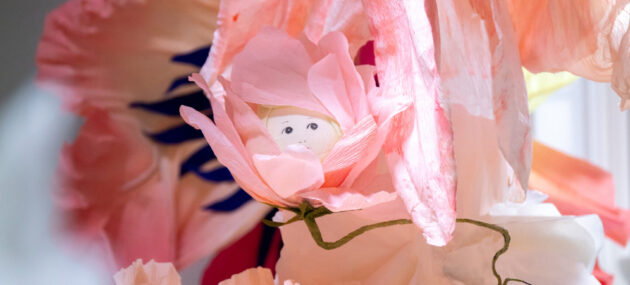 Opening of Family Exhibition: "The Rose Cannon – the King's Enchanted Garden"
Location
The Library Hall
Price
Included in entry ticket
Opening of Family Exhibition: "The Rose Cannon – the King's Enchanted Garden"
Join us for the opening of the floral family exhibition "The Rose Cannon" – a Saturday full of surprises for the entire family awaits!
We are excited to present our upcoming family exhibition. "The Rose Cannon – the King's Enchanted Garden" is an immersive exhibition for children, intended to stimulate the senses, awaken creativity and curiosity, and offer a poetic, enchanted version of the old tales about King Christian IV who built the Round Tower.
The exhibition opens on Saturday the 4th of February. Drop in early for some sweet snacks and refreshments, and take a garden stroll in the whimsical floral world created by artist Signe Kejlbo. Watch the dancing flower creatures, add your own paper flowers to the rose cannon's floral explosion and see if you can catch a glimpse of old King Christian IV as he walks among the flowers in his lovely garden.
About the exhibition
Christian IV was a king who valued growth. Before letting the Round Tower sprout up in the heart of Copenhagen, he created the King's Gardens where he placed his loveliest rose: Rosenborg Castle. He even made a cannon adorned with rosebuds!
With a spark of inspiration from his rose cannon and floral objects from Rosenborg Castle, Signe Kejlbo creates an enchanted garden where children and adults can immerse themselves in a secretive world of flowers. Here, paper flowers and poetic stories will unfold among breezy garden tents and secret pathways.

The exhibition is inspired by objects and locations from King Christian IV's life and Rosenborg Castle. Experience "The Rose Cannon" in the Round Tower between February 4th and April 16th.
Read more here.