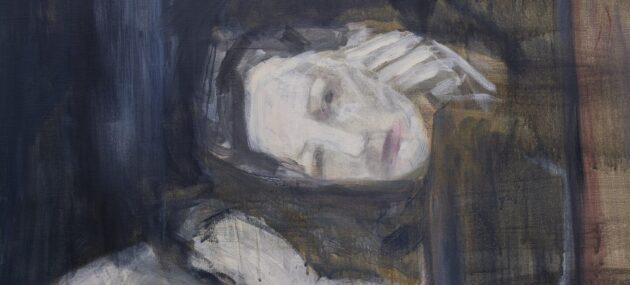 The Sisters of Cassandra – the painters of the future repeal the curse
Date
30.04.2022
-
15.06.2022
The Sisters of Cassandra – the painters of the future repeal the curse
15 contemporary female artists have created diverse works within painting – in a broad sense, virtuoso, and pastose, and with the mythological character Cassandra as a central figure. The exhibition is a tribute to painting, a sisterhood of solidarity, and a reinterpretation of Cassandra's destiny.
The painting has been deemed in and out of style, been said to be stone-dead or alive and kicking. Female artists have mostly been suppressed and barred from art history and the academies. However, increased focus and initiative suggest a disruption and a breakthrough for contemporary female artists – as well as those, who have been written out of art history. Now, art history is up for debate. The curators are on a mission when they invite reinterpretations of the Greek myth of Cassandra.
A selection of 15 contemporary female artists have been invited to create works relating to the theme of 'truth and consequence', taking the myth of Cassandra as a starting point. Cassandra was an attractive princess and was given the gift of prophecy by the god Apollo. However, Apollo expected the favour to be repaid with her love. But Cassandra did not reciprocate Apollo's interest. The rejection enraged Apollon, and he cast a curse on her, which meant that no one would believe her prophecies. The artists approach the myth from each their own angle, and interpret and build upon the myth's many perspectives, as well as Cassandra's character and struggles, from a more contemporary perspective.
With their strong narrative sense, painting skills, and insistent sympathy for the visionary, but ostracised, Cassandra, the artists show how the ancient myth still carries importance today. Apollo-types are unfortunately not only present in ancient Greek literature, but the artists stick together, both in personal experiences, and in their resistance to structural challenges in the art industry of today. They have produced imageries characterised by anger, loneliness, consolation, reconciliation, spirit, solidarity, integrity, sovereignty, resistance, and much more, as they approach the myth of Cassandra and the painting from their own perspectives in the historical surroundings of Round Tower's Library Hall.
The organisers of the exhibition and the network Cassandra's Sisters are Henriette Hellstern, Anna Walther, and Helle Moalem. The exhibition is curated by Henriette Hellstern and Anna Walther, and presents both established and younger artists. In collaboration with art advisor Helle Moalem, the curators also wished to, on top of the exhibition, establish a community, a network, and exchange among colleagues, in an aim to initiate more collaborations and synergy between artists, and to lift each other into a sisterhood, who paint each other better.
The participating artists are:
Agnete Bertram, Ditte Marie Frost, Emily Gernild, Henriette Hellstern, Mie Olise Kjærgaard, Tanja Nis-Hansen, Coline Marotta, Mie Mørkeberg, Marie Rud Rosenzweig, Bolatta Silis-Høegh, Ida Sønder Thorhauge, Anne Torpe, Helene Vestergaard, Anna Walther, and Maria Wæhrens.
In connection with the exhibition, a publication with an introduction by the curators Henriette Hellstern and Anna Walther, art advisor Helle Moalem, and philosopher Helene von Tabouillot, is published. The artist bios are written by art historian Natalia Gutman, graphic design is by Anders Gerning, and photographs are by Rine Rodin.
The exhibition is kindly supported by: