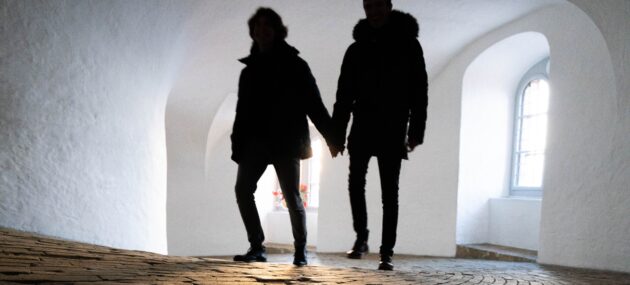 Valentine's Day with Star Gazing and Sweet Music
Valentine's Day with Star Gazing and Sweet Music
Bring your date on a unique Copenhagen date this Valentine's. Gaze at the stars from the telescope in our Observatory and enjoy some sweet music in the Spiral Ramp when Danish DJ Mads Axelsen sets the vibe for a lovely evening.
Invite your date, spouse, lover or best friend for a different Valentine's date experience this February. Stroll up the Round Tower's Spiral Ramp where Copenhagen-based DJ and radio host Mads Axelsen turns up the volume with a warm, eclectic DJ-set of love songs perfect for enjoying the evening with that special someone.

Enjoy the music, get a little drink from our pop-up bar or rest for a while on the Kissing Bench near the tower's top before heading for the stars in the Observatory, where the our astronomers will adjust the telescope and guide you through the night sky.

End your night on the Viewing Platform at the top for a stunning panoramic vista of Copenhagen or go down to the Library Hall and take a peek into the floral fantasy that is our current exhibition.
Access to music, stargazing and the exhibition are all included in your entry ticket.
Please note! The Round Tower cannot control the weather or the sky's visibility. In case it is overcast this night and the stars are out of sight, our Observatory will remain open for a visit and you can still enjoy the tower's ambience and the beautiful view of Copenhagen by night.